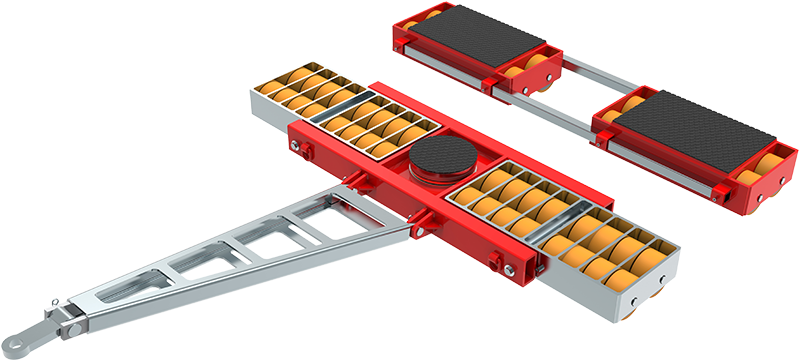 ECO-Skate® Load moving systems
ECO-Skate® load moving skates are user-friendly, robust, virtually mainte­nance-free and versatile in their selection. The rollers are not only used in opera­tions for the transport of machines, but are also used in production lines or the container movement.
For all areas of appli­cation in which the standard equipment is not suffi­cient, we design transport systems as special solutions that are individ­ually tailored to the customer needs.

High quality, non-marking polyurethane rollersas standard on all ECO-Skates (PU).Pendulum-mounted cassettesfrom i90L, ensure the compen­sation for uneven floors.Compact designwith individ­ually mounted rollers (from XL-Series).Protected support wheelfor the i90L and i120L by mounting inside the grip area.Foldable connecting rodsat i60S – i120S.Pulling eyefrom i90L as standard.Powder-coated or galva­nized surfacesCompat­i­bilityLoad moving skates of the same height from different series can be combined with each other.Non-slip rubber padsecures the goods to be trans­ported from slipping off.