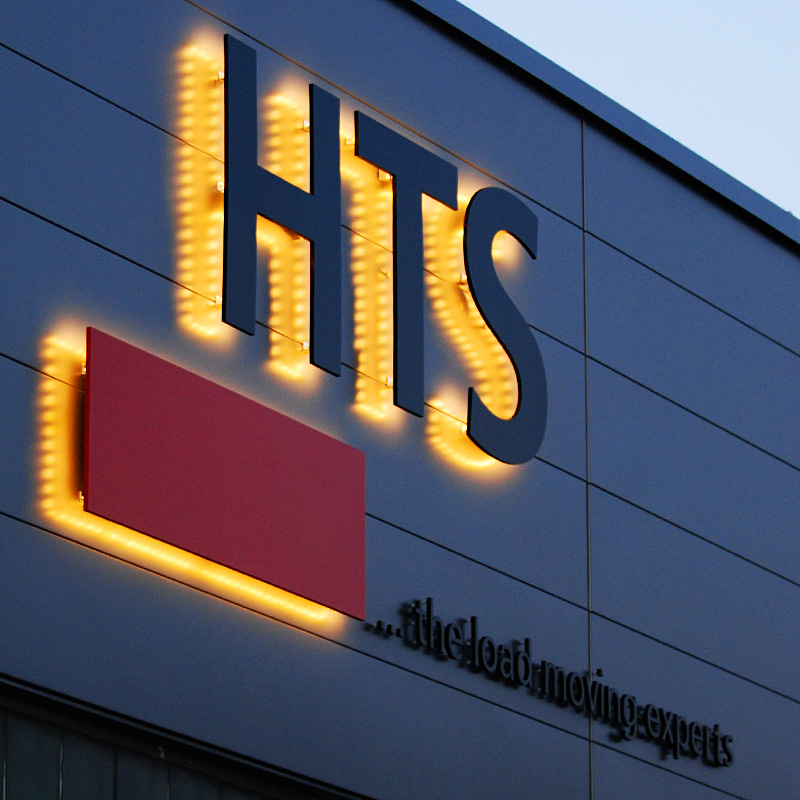 The HTS company history
The success movement. In our company history, which now spans more than 20 years, we at HTS Hydraulic Transport Systems have achieved a great deal. Here is an overview of the most important milestones.
2020

Our subsidiary in the USA brought us to CONEXPO in Las Vegas, the smaller brother of Bauma in Munich, for the first time in the Corona year. We were able to draw the attention of many customers to the POWER-Skate powered load moving skates and our complete range of machine jacks.

We used the time to optimise internal processes and to work on our internal quality assurance processes. As always, we took small measures on the products to help our customers use them even better.

2019

Presen­tation of the all new battery powered POWER-Skate IDEAL 5–10 load moving system with a completely new digital POWER-Skate control, the POWER-Skate Control PSC5 as a project for the future. The control system will later be used as a technology carrier for other POWER-Skate load skates. The load moving system will be more compact and, above all, lighter and, at only 110mm, signif­i­cantly lower than anything the machine transport world has seen so far in powered load moving skates.

In addition to the smaller eMotins version, we have also intro­duced the completely new POWER-Skate XL 20–40 H with integrated hydraulic lifting cylinder. We have succeeded in maintaining the compact external dimen­sions of the POWER-Skate XL 20–40 and accom­mo­dating the hydraulic unit and cylinder and all other compo­nents within the frame. We also presented the new POWER-Skate Remote DUO control system, which allows two powered skates to work together at the same time. Another highlight.

2018

Trade shows: CeMAT, Hannover

2017

In 2017, we received the certificate for our company with the intro­duction of a quality management system according to DIN ISO 9001:2015. Years before, we started restruc­turing our family business with the aim of optimising all our processes, still Swabian but with regard to inter­na­tional standards. This certificate now also demon­strates our perfor­mance to the outside world, which is shown in well thought-out equipment for internal heavy-duty transport and is appre­ciated all over the world.

2016

HTS Direct LLC is founded as the new distri­b­ution partner in the United States of America. We expand our distri­b­ution network to Grand Rapids, Michigan, USA to further provide our customers expec­ta­tions and offer the same distri­b­ution services.

Tradeshows: BAUMA, Munich, CeMAT, Hannover and AMB, Stuttgart

2015

Tradeshows: LogiMAT, Stuttgart and HUSUMwind, Husum

2014

Intro­ducing the next gener­ation POWER-Skate XL 20–40. Moves load capac­ities indepen­dently without any pushing or pulling devices in an all new design.

The state of the art electric engines and radio remote control unit are handled easily to minimise mistakes by the user.

Tradeshows: CeMAT, Hannover and WindEnergy Hamburg

2013

Tradeshows: K, Dusseldorf

2012

HTS installs new engineering and ERP software and invests in the expansion of production area and storage facil­ities.

We welcome new colleagues in our staff.

Special solutions are delivered to customers: a DUO-Skate with modular capac­ities for moving different machines or ROTO-Skates equipped with a pressure block for synchro­nized lifting for mainte­nance appli­ca­tions.

The WKA-Box is very popular and becomes a standard for the users of the WKA-Systems.

Tradeshows: HUSUMwindenergy, Husum

2011

Intro­ducing the ECO-Skate BIG series with load capac­ities up to 220 tonnes.

An extended warranty of 5 years in total can be claimed for the ECO-Jack machine jacks. The only prereq­uisite for this is regular UVV inspec­tions and regis­tration of the respective devices.

More customers use the WKA-System to be faster in tower mounting and feeding the grid.

Trade fair partic­i­pa­tions: CeMAT, Hanover

New sales partners in the Czech Republic and Slovenia.

2010

We took over the distrib­u­torship for Gruni­verpal Tranchero Cranes and Mold Handling Equipment which are very compact built with high lifting capac­ities in the working area compared with other cranes.

Tradeshows we attend: HUSUMwindenergy, Husum and K, Duesseldorf.

We will continue to grow and extend our distri­b­ution network in Europe and world wide.

HTS direkt AG was estab­lished as an independent office in Switzerland.

2009

Throughout 2009 we made it our priority to improve our already impec­cable quality standards. A new quality management system according to ISO9001:2008 was intro­duced and all systems were aligned for a new ERP as well as CRM software.

We expanded our warehouse in order to reduce delivery times.

During the global economic crisis we created many various special solutions for our customers.

We also announced new distrib­utors in Korea, Israel and the Nether­lands.

2008

We celebrated the 10th anniversary of HTS in Germany.

To strengthen our production in Germany we purchased another new CNC milling center while simul­ta­ne­ously expanding the production area.
The now patented WKA-System is used to assemble around one in six wind turbines worldwide.
The HTS FS system prevents confusion by colour-coding the screws and thus contributes even more to safe use.
A transport and storage box ensures that all parts of the WKA-System, including acces­sories, stay together.

Tradeshows we attended CeMAT, Hannover and HUSUMwindenergy, Husum.

New distri­b­ution partners in Sweden, France and Brasil.

2007

Always committed to improving our production levels, we purchased a CNC milling machine. We added to our range of available products including the 360-degree ECO-Skate ROTO-Skates with the iR32 and 3.2‑tonne capacity.

We were delighted to announce the launch of the new ACTEK ball-bearing URL-Series.

Our products were featured at HUSUMwind, Husum.

We announced a new partnership with a Danish distributor.

2006

Our ECO-Jack G‑Series was expanded with a brand new model featuring a 10-tonne capacity (the EJ100-3G).

Moving capac­ities were also increased for the ECO-Skate DUO XL skates from 32 up to 128 tonnes.

2005

We doubled our production space and purchased a 3‑station cutting-edge welding robot.

With larger warehouse space we started to stock the new ECO-Skate i‑Series XL with both the iX40L and the iX40S models.

World Première: First intro­duction of a revolution in the load moving industry. Our first model of the POWER-Skate XL 20–40 was presented on the CeMAT in Hanover.

This year we attended CeMAT, Hannover and HUSUMwind, Husum.

2003

This year marked the founding of independent distri­b­ution company HTS Direct Ltd in the UK.

2003 also signalled a number of additions to our products. Our load-moving skates were rebranded to ECO-Skates and our range of skates with four points grew as we began to stock the ECO-Skate DUO.

We also added the iX16L and the iX16S to the i‑Series XL. 360-degree ROTO-Skates were intro­duced to our products as well as the nickel plated CR-Series with nylon wheels.

For the UK market we extended our product range with the new ECO-Jack C‑Series ("the Conqueror") as well as the ECO-Skate CS-Series (Cater­pillar Skates).

Tradeshows we featured: HIREX@SED, England and HUSUMwind, Husum.

New distri­b­ution partner in the UK.

2002

This year saw the launch of new ACTEK hoist rings. We also presented the WKA-System for safely and quickly assem­bling tower segments of wind turbines.

We were proud to display the brand new 50-tonne EJ500-3XR as the largest model of the ECO-Jack XR-series.

Tradeshows: Hannover Messe Fair (CeMAT)

We announced new distrib­utors in Turkey and France.

2001

Naming of the load moving skates to ECO-Jack TF.

Further devel­opment of lifting equipment for the erection of wind turbines, later known as the WKA system.

Progressive devel­op­ments in the load moving systems and the production facility.

New sales partners in Spain and Italy.

2000

First partic­i­pation in the Hanover Trade Fair (CeMAT).

Exhibition of the complete standard product range of machine jacks and transport load moving systems.
Presen­tation of the ECO-Jack machine jack up to 25 tonnes load capacity (patent pending).
Presen­tation of the complete trade programme of ACTEK — hoist rings made in the USA with lifting capac­ities of up to 44.6 tonnes, which HTS distributes throughout Europe.

The first contact with the wind energy industry is made and the later WKA system is developed in its first form.

1999

Further devel­opment of the load moving skates with capac­ities up to 24 tonnes.

We developed three different models of toe jacks with capac­ities of up to 10 tonnes.

1998

A signif­icant year. HTS Hydraulische Trans­port­systeme GmbH was founded.

1970-1998

Karl Koch, father of the company founders Stefan and Michael Koch, specialized in machinery moving and created a steel-wheeled skate system with a 30-tonne capacity for use in heavy-duty areas. His innov­ative work was carried forward by his sons, who became a driving force in the heavy-load-moving industry.