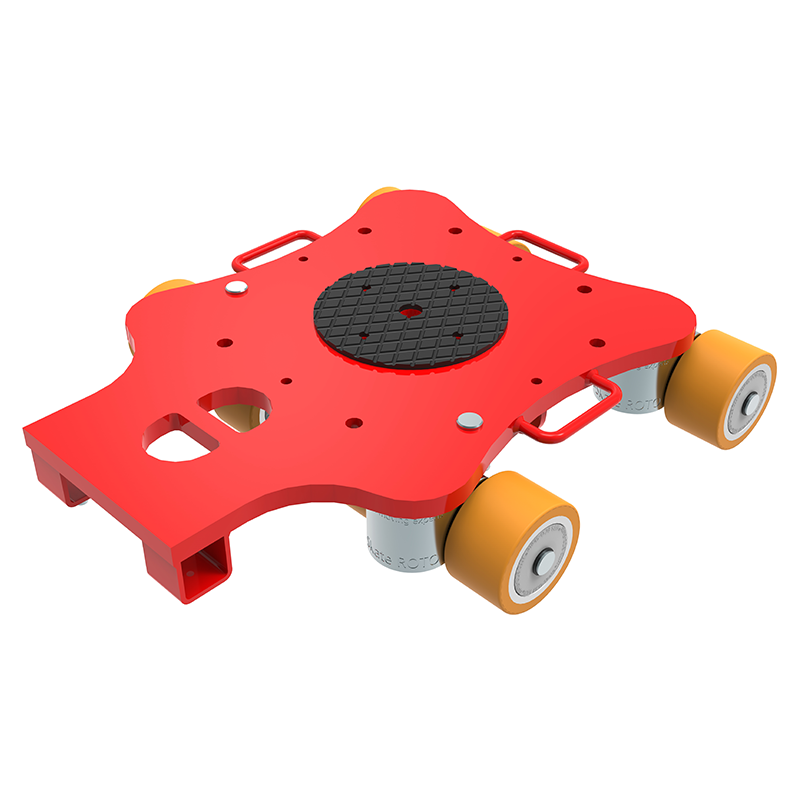 Rotational skates
With the transport trolleys of the ECO-Skate ROTO (NY) series, loads can be moved and placed in cramped condi­tions with little space for maneu­vering. An ECO-Skate ROTO system consists of at least three skates, with which the load to be carried can be freely rotated 360 °. Special wheel boxes ensure the free mobility of each wheel. With the integrated handle, every ROTO Skate can be precisely positioned. All ECO-Skate ROTO rotating skates are fitted as standard for universal use on all surfaces with polyurethane wheels and can be combined between themselves and with the ECO-Skate series IDEAL and DUO. As ROTO LS version the skates can be equipped with pulling and alignment bars.

The following distin­guishes the rotating trolleys of the ECO-Skate ROTO (NY) series:
360° rotatableOptimal positioning accuracy in the smallest space
CombinableAll Skates of the ROTO series can be combined with each other and with trolleys of the IDEAL or DUO series. The total load results from the sum of the individual load capac­ities.
HTS nylon wheelsAll Skates come standard with HTS nylon wheels, which have very low rolling resis­tance. They are made of solid material and not produced by injection molding. As a result, they are partic­u­larly high quality and resistant to abrasion. The very high payloads that result from this can never be achieved with rolls of conven­tional nylon tubes. HTS nylon wheels can also be ordered separately.
Pulling and alignment barsThe load moving skates of the ROTO series can be delivered in the LS version with a variety of pulling and alignment bars. Special lengths on request.
For all areas of appli­cation in which the standard range from the standard range is insuf­fi­cient, we design special solutions that are individ­ually tailored to the customer needs.